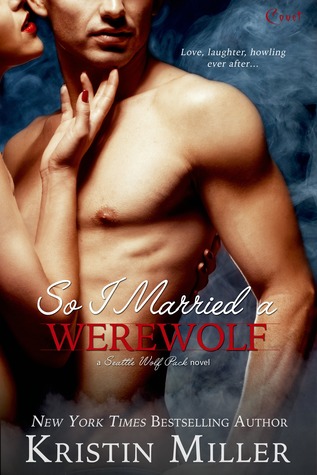 -

This is an ARC book

- Available Formats through Amazon.com: Kindle Edition - File Size: 1125 KB | Expected Release Date: July 28, 2014 | Publisher: Entangled Publishing : Covet | Obtained: Entangled Publishing
"So I Married a Werewolf" [Seattle Wolf Pack Series, Book 3] by Kristin Miller
Author's Book Description :
Carter Griffin, enforcing officer for the Seattle Wolf Pack, has a problem. He's been offered the promotion of his dreams...if he can find a wife to prove he's over his playboy ways. But Carter's already walked the matrimonial road and bought the stinkin' T-shirt. Besides, a werewolf only gets one fated mate. Been there, done that.
All werewolf dog trainer Faith Hamilton wants to do is earn enough green stuff to put her younger brother through college. Okay, okay, so she also totally wants Carter, her sexy next-door neighbor, to look at her as more than a friend. It's too bad size 12 and plain isn't his type. At all.
The two friends strike a deal to help one another out. They must face a variety of challenges from a psycho ex-girlfriend to a Yorkie with a shoe fetish...and that pesky problem of only having one-fated mate in a lifetime. Will a relationship ruin their friendship…or spark a love neither anticipated?
My Book Review :
2.5 out of 5 stars. This quirky werewolf romance was so cute I couldn't help but root for Carter & Faith. I thoroughly enjoyed their easy banter, learning about Luminaries, and reading about their love story. It was sweet.
Yet, because of just how sweet it was, it dragged a lot towards the end. In addition, even though I liked how their relationship played out, the intensity of this novel is more hyped then it needs to be, as I kept "waiting for the next shoe to drop" (like Faith getting attacked or something) which never happened. It left me a bit disappointed to see that the ending (while good) wrapped up a bit to perfectly for me.
Therefore, I recommend this novel to those who are fans of this series and/or Ms. Miller.
Purchase This Book and/or The Other Books From It's Series Here :
Author's Series Extras :
Emerging from the writing cave
|
Early taste of Seattle Wolf Pack #2!
|
Seattle Wolf Pack #2 has a title!
|
COVER REVEAL for FOUR WEDDINGS AND A WEREWOLF
Book Teaser(s) :
"I think they dropped off the wrong animal," he said. "That's a rat!"
"No, it's a teacup. They're supposed to be this small." Laughing, Faith fought to control the black-and-white ball of fur. "This guy doesn't seem to want to be held."
Gently, she set the dog down. It scurried to Carter's side like its fur was on fire, and latched onto the tip of his boot. It pumped furiously, its petite backside doing an erratic version of the Humpty Dance.
"What the hell?" Carter gave the dog a little shake. "Run all the way over here for a quick hump?"
The puppy wouldn't shake off.
"Looks like he likes you," Faith said. "Must be those rugged good looks you were talking about."
"Shut." Carter wiggled his foot around. "Up."

~ within Chapter 6


For more information on this book, series, and/or any other books by Kristin, then please check out her
website
.