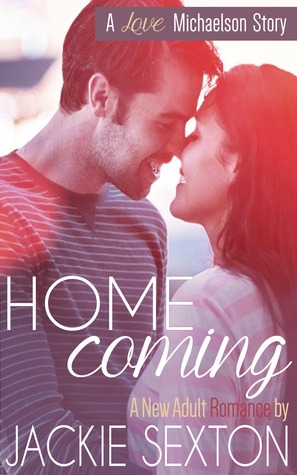 -

This is an ARC book

- Available Formats through Amazon.com: Kindle Edition - File Size: 1093 KB | Expected Release Date: June 20, 2014 | Publisher: Moon Flower Press | Obtained: NetGalley
"Homecoming" [Love Michaelson Series, Book 1] by Jackie Sexton
Author's Book Description :
Ariane Michaelson is always the quiet girl in the room, the one that her kooky mother and three sisters lovingly call the wallflower. After graduating from college she finds it more than a little difficult to find the graphic design job of her dream...or any job, really. She's more than given up on painting, and a terrible run-in with her twin sister's fiancé makes each day harder to keep a life altering secret.
Liam Ashdown was just the moody small town nobody, with one friend and a busted pickup—until he moved to LA. Spotted by famous actor and producer Michael Jennings during a late night shift at the bar, Liam is transformed seemingly overnight into Tinsel Town's hottest bad boy. The life Liam once knew is turned upside down with models and mayhem...and there isn't much down time in-between.
The only thing that keeps him sane is the paintings. Beautiful ocean portraits that remind him of home, painted years ago by some friend of a friend.
What he wouldn't give to know her. To tell her that her art saves him everyday.
The engagement of his childhood friend, Todd, brings him back home to Craryville, to deal with a drug-addicted mother and an ailing grandmother. But it also brings him hope—somewhere in the bridal party is the woman who has been his calm and respite in the storm of fame.
The only question is,
can she save him
?
This book contains sexual content, drug abuse, and language. For ages 18 + only!
My Book Review :
4 out of 5 stars!! This was a dynamically intense novel! About two people who are at impasses in their lives, meeting again after years apart and finding out what their true dreams are while getting to know one another. I really enjoyed this novel. Even though it seems more fantastical then anything with there being a family curse and someone falling in love while not ever meeting the other person, but it was also because of that "imaginary stuff" that made me fall into Liam & Ariane's worlds and like them as a couple. In some ways Liam reminded me of Travis from Jamie McGuire's "
Beautiful Disaster
" because of both of their intense and possessive nature's, also because they both seem to fall instantly in love with their "girls."
I found Liam & Ariane to really balance each other out, which--in turn--made me root for their relationship no matter what they ended up doing. It also make me curious as to what will come next in this series, as this novel was written (it seemed) like a stand-alone.
I do recommend this novel to those who enjoy contemporary NA romances that have a little fantasy thrown in! =0)
Purchase This Book and/or The Other Books From It's Series Here :
Author's Novel Extras :
Homecoming is released! Finally!
Book Teaser(s) :
"Are you even listening, Liam?" Mike Jennings asked, taking another shellfish appetizer from a tray. Liam shook his head, and the party staffer left with a courteous nod and smile.
"Sorry. You-know-who is closing in."
"Are you really going to refer to your ex as Voldemort?"
"She does have a very small nose."

~ within Chapter 2
For more information on this book, series, and/or any other books by Jackie, then please check out her
website
.