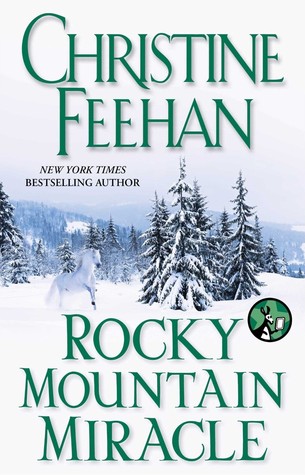 -

This is an ARC book

- Available Formats through Amazon.com: Kindle Edition - File Size: 2061 KB | Expected Release Date: November 17, 2014 | Publisher: Simon & Schuster : Gallery Books : Pocket Star | Obtained: NetGalley
"Rocky Mountain Miracle" by Christine Feehan
Author's Book Description :
When Cole Steele, a womanizer rumored to have killed his father, meets Maia Armstrong, a veterinarian rumored to practice magic, the sparks that fly could melt all the snow on his Wyoming ranch. And when an injured horse brings them together, Cole can't help but believe that Maia casts spells on animals and men. What else could explain the burning passion he feels for her and the thawing of his heart around the holidays?
My Book Review :
4.5 out of 5 stars
! Cole comes "home" after his father is murdered to take over as guardian for his teenage brother (Jase). Both Cole and Jase have dealt with a violent upbringing at the hands of their father, while they are happy he's now dead and knowing they weren't the ones who killed him, they struggle to move on from the demons their father left behind. Yet, when fate brings Maia (the local traveling veterinarian) into their lives, Cole finds it hard to ignore how perfect she is and how she fits right in with them. Now if only Cole can make it through the holiday season (a time period he absolutely hates) and protect both Jase and Maia from those from his father's past who have plans of revenge…
This slightly paranormal contemporary romance quickly sweeps you up into its intrigue; just as fast as Cole got Maia onto the dance floor…aka lightening quick. I was unsure what to expect of this novel, but soon found it had the same charisma Ms. Feehan puts into all of her novels, especially her Dark Series. Fascinating characters with mysterious pasts and uncertain futures leave the readers only wanting MORE! Cole, Maia, and Jase are no exception as it was great reading about them! Plus, the igniting chemistry between Cole and Maia was heavy throughout this novel making it easy to root for the growing relationship between them. I could not get enough and was sorry it had to end!
I recommend this novel to those who are fans of Ms. Feehan and/or are in the mood for an adventurous contemporary romance that has slight paranormal tendencies. =0)
Purchase This Book and/or The Other Connected Books Here :
My Previous Review(s) for this Author :
Dark Melody
|
Dark Legend
|
Burning Wild
|
Dark Slayer
|
Dark Peril
My Previous Mention(s) of this Author's Books/Characters :
April 2010 - Book Sale!!
|
WWW Wednesdays [May 12, 2010]
|
The Monday Update [September 13, 2010]
|
"Waiting On" Wednesday: Dark Predator
|
"Waiting On" Wednesday: Dark Storm
Author's Novel Extras :
ROCKY MOUNTAIN MIRACLE: CHAPTER ONE
|
THE SHADOWS OF CHRISTMAS PAST - Overview
|
A CHRISTINE FEEHAN HOLIDAY TREASURY - Overview
Author's Book Trailer :
Book Teaser(s) :


"Hey now, don't you go blaming anything on me," Maia objected. "Honestly, Jase. He started it." She rubbed her mouth. "At least I think he did, I can't remember now. But he's such a flirt."
"He said he doesn't have to smile at women," Jase reported. He was trying desperately to make up for the accusations he'd leveled at his brother earlier. Unsure of himself, he followed Maia's lead, teasing Cole.
Maia's eyebrow shot up. Cole sank back on his knees, groaning aloud. "Jase. That was a brotherly confidence you weren't supposed to share." He looked at Maia. "We're still trying to get the hang of being brothers. Neither of us knows a lot about it yet, but I'm certain that was confidential."
"Brotherly advice?" Maia asked.
"Something like that," Cole admitted.

~ within Chapter 7
Book Preview :
For more information on this book and/or any other books by Christine, then please check out her
website
.