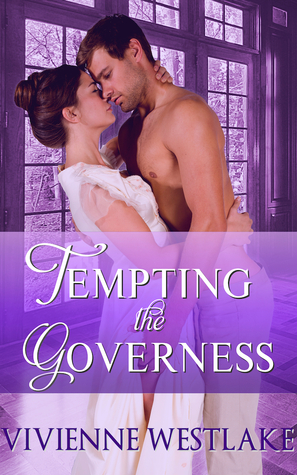 -

This is an ARC book

- Available Formats through Amazon.com: Paperback - Pages: 111; Kindle Edition - File Size: 266 KB | Expected Release Date: October 9, 2014 | Publisher: Self-Published | Obtained: NetGalley
"Tempting the Governess" by Vivienne Westlake
Author's Book Description :
Never fall in love with your employer. Any respectable governess knew the cardinal rule. Christine Aubrey prided herself on her devotion to her charges, never suspecting that one day a former pupil would tempt her to break every rule in the book.
Theodore Blake was a "good boy" who grew up into a responsible man. Shouldering the burden of raising his sister's children and managing his older brother's affairs, Teddy has always done the right thing. But when his former governess returns to Birchwood, all he can think about is how good it would be to be bad.
*Contains the following themes: older heroine/younger hero, former student/teacher, and forbidden love.
My Book Review :
4 out of 5 stars! Old feelings come into play when a governess comes back into the lives of the family she used to be employed with will she be able to deny her feelings to her boss or will she open her heart to him for good?
This quick read was one that reminded me of an enchanting mixture of Ms. Ross' "
Improper Relations
" (because of the 'sweet/hot older woman' angle) and Ms. Kleypas' "
Married By Morning
" (because of the 'governess' angle)! I really enjoyed how Christine & Theodore (Teddy) come together and prove they have more feelings for one another than just lust. It was all very erotically sweet!
I recommend this novella to anyone looking for a fast-paced historical erotic romance!
Purchase This Book Here :
KOBO : Tempting the Governess
My Previous Review(s) for this Author :
The Lady's Wicked Proposition
Author's Novel Extras :
Tempting the Governess - Overview & Excerpt
Book Teaser(s) :


For more information on this book and/or any other books by Vivienne, then please check out her
website
.