Today I'm showing off
Ruth Logan Herne
's "
Back in the Saddle
," which is her recently released novel and the FIRST book in her
Double S Ranch Series
!!
[Blog Tour will run from March 29 - April 15, 2016]
---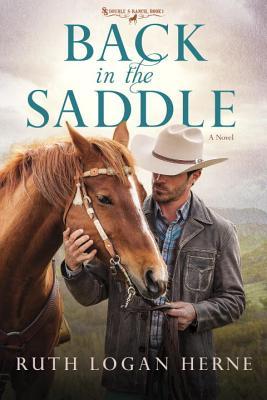 -

This is an ARC book

- Available Formats through Amazon.com: Hardcover - Pages: 500; Paperback - Pages: 304; Kindle Edition - File Size: 6666 KB | Release Date: March 15, 2016 | Publisher: Penguin Random House : Multnomah | Obtained: Litfuse
"Back in the Saddle" [Double S Ranch Series, Book 1] by Ruth Logan Herne
Author's Book Description :
The Prodigal is Coming Home
It's been a long time since Colt Stafford shrugged off his cowboy legacy for shiny Manhattan loafers and a promising career on Wall Street. But when stock market manipulations leave him financially strapped, the oldest son of legendary rancher Sam Stafford decides to return to the sprawling Double S ranch in Gray's Glen, Washington. He's broke, but not broken, and it's time to check in with his ailing father, and get his legs back under him by climbing into the saddle again.
He doesn't expect to come home to a stranger pointing a loaded gun at his chest— a tough yet beautiful woman that Sam hired as the house manager. Colt senses there's more to Angelina Morales than meets the eye and he's determined to find out what she's hiding...and why.
Colt's return brings new challenges. Younger brother Nick has been Sam's right-hand man at the ranch for years and isn't thrilled at having Colt insert himself into Double S affairs. And the ranch's contentious relationship with the citizens of Gray's Glen asks all the Stafford men to examine their hearts about what it truly means to be a neighbor. And as Wall Street recovers, will Colt succumb to the call of the financial district's wealth and power—or finally the courage to stay in the saddle for good?
My Book Review :
3 out of 5 stars
. A down-on-his-luck Wall Street financial advisor goes home to his cowboy roots with plans to hole-up until the storm passes in New York. However, that changes in day one when he gets home and finds a gun aimed straight at him by the house manager/housekeeper. A woman who has changed the whole way his father's home is run and changed his father to become a better man. Soon Colt (Colton) finds himself changing for what he believes to be the better too. Yet when Colt's past from New York tells him it's time to come back will he so keen to leave everything his family's home once again or will he decide a new future is in the cards for him?
This was a heartwarming start to an intriguing series. I appreciated way the plot was laid out with the build-up it has for all the characters on Double S Ranch, and the town, even though I found it to be very slow-paced. Only because of its pacing, was why I found it a struggle at time to get through. Though, with its vibrant characters I was still able to enjoy it.
Angelina (Mary Angela) and Colt were a very sweet matchup. I enjoyed how they worked through everything that was thrown their way with grace and courage. And while I wished the ending tied up more loose ends then having Colt just say, "I had taken care of that already, you just needed to ask me," I was happy with how it all turned out.
I recommend this novel and series to those looking for a sweet Christian romance!
-- On a side note --
I know it probably won't happen, and she'll most likely end up with someone else, but I am hoping that Lucy (the Double S Ranch's neighbor) ends up with Trey (Colt's youngest "brother").
Purchase This Book and/or The Other Books From It's Series Here :
Shop Your Local Bookstores (IndieBound - Paperback) USD : Home on the Range (Book 2)
|
Kobo (e-Book) USD : Home on the Range (Book 2)
|
Amazon (Kindle) USD : Home on the Range (Book 2)
|
Amazon (Paperback) USD : Home on the Range (Book 2)
|
Barnes & Noble (NOOK Book) USD : Home on the Range (Book 2)
|
Barnes & Noble (Paperback) USD : Home on the Range (Book 2)
My Previous Mention(s) of this Author's Books/Characters :
Blog Tour - Back in the Saddle by Ruth Logan Herne | Spreading the Word
|
Second Sentence Saturday: Back in the Saddle
A down-on-his-luck Wall Street financial advisor who goes back home to his cowboy roots - By @RuthLoganHerne https://t.co/m5YxPlnyuo

— Jessica (@fromjesstoyou) April 3, 2016
Author's Novel Extras :
Author's Series Extras :
Recipes from the gals... and maybe a few cowboys... of the Double S!
Book Teaser(s) :
"There is no claim to be staked. You know it. I know it. He knows it."
"He will never accept that," Isabo replied. She dropped potatoes into the kettle of water with infuriating calm, one after the other. "He is not that kind of man. Like his father, when he sees something he wants, he finds a way to get it. You can see that as you look around this home, this land. It takes a person like that to accomplish what they've done. You have Colt thinking of new things and old. He weighs what was with what could be," Isabo noted. "This is good."

~ within Chapter 9
Book Preview(s) :
For more information on this book, series, and/or any other books by Ruth, then please check out her
Amazon acct
.
---
About the Author :
Ruth Logan Herne has more than half a million books in print, including fifteen Love Inspired contemporary novels. "Back in the Saddle" is the first book in her new western romance series. Ruth is a founding member of Seekerville, a popular writing collective blog. A country girl who loves the big city, Ruth and her husband live on a farm in upstate New York.
Be sure to follow the tour around the other blog sites!
---
Find Ruth Logan Herne :