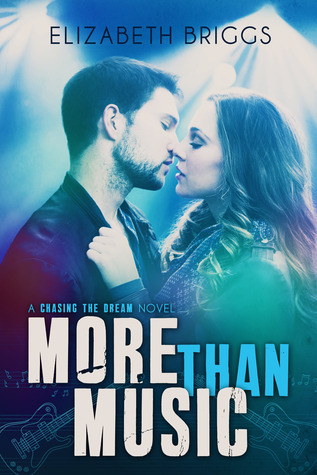 -

This is an ARC book

- Available Formats: Kindle Edition | ISBN: 9780991569601 | Expected Release Date: June 17, 2014 | Publisher: Self-Published | Obtained: NetGalley
"More Than Music" [Chasing the Dream Series, Book 1] by Elizabeth Briggs
Author's Book Description :
Music major Maddie Taylor seems to have her life all figured out. She's just finished her junior year of college, has a summer internship lined up with the LA Philharmonic, and plans to go to grad school to write movie scores. Only her roommates know she practices guitar every night and secretly dreams of a louder life. But geeky girls like her don't get to be rock stars.
Tattooed singer Jared Cross has a new girl every week, but when he catches Maddie playing one of his songs, she attracts his attention in an unexpected way. His band needs a fourth member for
The Sound
, a reality TV show competition—and he wants her. Though Maddie refuses to be another notch on Jared's bedpost, she agrees to risk everything for the chance to be a rock star.
Once on the show, Maddie discovers there's more to Jared behind his flirty smile, and with each performance their attraction becomes impossible to ignore. When the show pressures Jared to flaunt his player image, they're forced to keep their relationship secret, but Maddie can't help but want something real.
As the competition heats up, Jared will do whatever it takes for his band to win, and Maddie must decide if following her dream is worth losing her heart.
*** New Adult romance suitable for 17+ due to mature content. ***
My Book Review :
3.5 out of 5 stars! Jared's band means everything to him. His younger brother, his best friend, and him have been building their band's following up from nothing for years, only within the past few have they had a decent amount of fans to show for it. Yet the one thing they've found hard to keep in their band is a bassist player. Therefore, two days before they plan to audition for
The Sound
(a competition show like
The Voice
only just for bands) they enlist Maddie (a close friend of Kyle's and a musical prodigy) to join their group. After they audition and land on a mentor's team their lives get turned upside down, tensions fly high, and they'll have to see what fame and winning the show is worth to them in the long run...
I LOVED all the characters in their band (Villain Complex), Maddie's best friends, and Jared's shirts! *hehee* They were all so fun and I liked how the novel built the storylines around them. In addition, Jared and Maddie are like a kindred musical couple that acted like they knew what each other was thinking (music that was playing in their heads) just by their moods. Yet even though I liked them and I enjoyed how the novel all wrapped up in the end, the big blow out between everyone in the band (but especially between Jared & Maddie) and how Maddie handles herself the few days afterwards made me not really respect her or Jared as much as I did throughout the rest of the novel.
I cannot wait to see where this series will take us next and find out who the main characters will be. Yet no matter who stars in the next novel are I really hope it starts out with the band and Maddie's friends at Comic Con since they talked about attending it so much!
Nevertheless, I DO recommend this novel and series to anyone who likes rocker contemporary romances!
- On a side note -
I'm a huge fan of
The Voice
and compared to all of the other music contestant novels I've read recently I found this one's setup to be the most like that show. I just hope the mentors, producers, and contestants on
The Voice
are NOTHING like
The Sound
within this novel! =0)
@fromjesstoyou Thanks! And there will be a novella set at Comic Con. :)

— Elizabeth Briggs (@lizwrites) May 29, 2014
Purchase This Book and/or The Other Books From It's Series Here :
Author's Novel Extras :
Pinterest: More Than Music (NA)
|
Announcing my book: MORE THAN MUSIC!
|
MORE THAN MUSIC Cover Reveal & Giveaway!
|
More Than Music Songs #1
Author's Series Extras :
Pinterest: More Than Exes (NA)
Book Teaser(s) :
The Static Klingons sat two rows in front of us, and Sean turned around and grinned at me before saying something to his band.
Jared leaned closer to me. "He likes you."
"What?" I said it a little too loud, then blushed and lowered my voice. "Why do you say that?"
"I saw the way he looked at you."
"This is the real reason why having Maddie in the band is a bad idea," Hector said, smirking. "Now we're going to have to fight off hordes of horny guys after her."
"Thanks for the offer, but I think I'll be okay," I said, but I was secretly pleased Hector thought I would attract so much attention. Or that he would actually fight them off for me. Not that he'd need to because one boy smiling at me one time did not equal "hordes of horny guys." Nor did it mean that this one guy was interested in me that way. Sean just seemed friendly.
Jared didn't seem to think Hector's comment was amusing at all. "You said it was a bad idea to let Maddie join because I'd---how'd you put it?---'bone her and then break her heart?'"
"Oh, god, you said that?" I asked Hector.
His face turned almost purple.

~ within Chapter 7
"Nice finds," Hector said. "But I'll see your dick gummies and raise you my Crunchy Nude Balls." He held up a box of Korean rice candy with that name.
"Hector, there are ladies present," Kyle said, in an overly shocked way.
I held my hand over my heart. "It's true. I'm a delicate flower who is easily offended."
Hector snorted.

~ within Chapter 15
For more information on this book, series, and/or any other books by Elizabeth, then please check out her
website
.